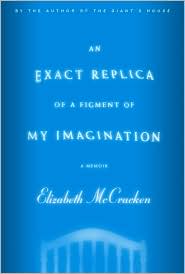 An Exact Replica of a Figment of My Imagination
by
Elizabeth McCracken
is a memoir of the author's pregnancy with her son, Pudding, and the months following his stillbirth, during which she becomes pregnant again with her subsequent pregnancy.
I received this book as part of a 'book circle" amongst some
SHARE
moms in which the book is passed along to another SHARE mommy after it's been read. (If you are a member of SHARE, see the boards for more detail.)
The inside cover describes this book as
"a story of true love and unfathomable sadness. It is a story of courageous recovery and bittersweet moments, of steadfast memories and deep affection. it is a story of the importance of friendship. It is the story of happiness, and of hope."
Reviews from others who have read the book lead me to believe the book was laced with humor as well as the sadness. It led me to believe that there was love and hope in this book. I anticipated reading this and was so excited when it finally arrived in my mailbox.
Unfortunately, the book did not strike me as being quite as described by the reviews I have read. Perhaps this is because I have lost my chance to have another pregnancy. Perhaps it is because I lack the kind of humor that is needed to "get into" this book. I was a bit disappointed, to say the least, especially after I had been so anxious to read this book in the first place.
Not everyone else will feel the same about this book as I do. As I mentioned earlier, many seem to quite enjoy this author's writings. I hope the next mommy to get this book will enjoy it more than I.
(note: review written in Feb. '09)