This past weekend, my friend and her husband were taking a shopping trip south of the border (which is only a few hours away) . They invited me to
tagalong
and I decided to take advantage of this opportunity so I could meet a fellow angel mom who I have co-responded with for the last few years since our little girls died in 2005.
It was a great visit, but admittedly way too short! Hopefully, next time will have the opportunity to visit longer.
I did not do much shopping. However, I did pick up a few grocery items that we do not have in Canada.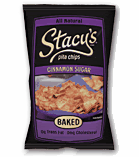 These were so good! I wish I bought a few bags!
Jo has been raving about this ever since I first met her online. I thought it was good, but not necessarily the first thing I'll go running for next time I am in the States.
These, we do have in Canada, but I hadn't ever tried them, and they were on sale, so I thought I'd get them. They were so good! I mean come on! Chocolate +
Marshmallow
? You can't go wrong with that!
Sorry to disappoint you hard core shoppers, but that's pretty much all I bought!
Also, while we were there, we ate out for lunch and supper.
For lunch we went to Culver's. My friend kept joking that the burgers should have frozen custard on them, because the sign is misleading.
I can't say I really enjoyed the burger that I had, but then again, I have quite an aversion to fast food. I just can not stomach it.
The frozen custard, on the other hand, was so yummy!! I got the Turtle Sundae, which was quite good, though the caramel sauce was a bit too sweet for me. The pecans were salty, which was interesting mixed in with the sweetness of everything else. I would go there again, but only for the frozen custard.
For supper, we stopped at Buffalo Wild Wings, and friends, I'm so sorry, but I didn't think the food tasted very good. I ordered the ribs and popcorn shrimp. It came with french fries and coleslaw. I was disappointed that it didn't taste as good to me, despite all the rave reviews I've heard of this place. But I guess, the Buffalo icon is kinda cute.
Well, I know this makes for a sad excuse of a blog post, but I hope you enjoyed it anyway! :)