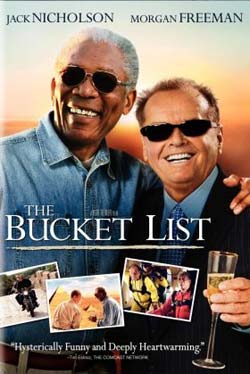 The Bucket List - starring Jack Nicholson and Morgan Freeman.
Two complete opposite men find themselves in the same hospital room fighting for their lives. An unlikely friendship develops between the two after they are each told they have not much time left to live.
They develop a list of things they want to do before they 'kick the bucket' aptly named "The Bucket List".
When they leave the hospital, they decide to go on a trip around the world in attempt to cross the items off their list.
This movie was full of both humorous and touching scenes. I found myself both laughing-out-loud and being moved by this movie. It causes one to think of their own mortality and the list of things they wish to do before they die.
No one can do it quite like Nicholson and Freeman. I certainly recommend this movie to all.
(note: review originally written in March 2009)