I don't actually have a menu set up yet. But I am attempting to return to Menu Plan Mondays, even if I just do this once a month or so, until I figure out my new normal.
If you are new here, the short story is that my husband passed away in November, and now I am learning to cook for one, which isn't as easy as it sounds. You can read the whole story
HERE
.
So, this particular post is to request my reader's help in meal ideas. I know that I can make alot of the same things I made before, just reduce the recipe, or freeze leftovers. However, sometimes I find it too much effort at this point in time, and the memories associated with the meals can be overwhelming sometimes.
That may sound silly to some of you, but my husband and I were very much homebodies and due to our opposite work schedules, our only real opportunity to spend time together was at meal times, so we often splurged on ingredients and spent extra effort to make nice meals, since it was our special time together.
No worries, I know you didn't come here to see a rambling post, so, I want to share with you a recipe I tried on Sunday for the very first time. It was so good!

Butternut Squash Soup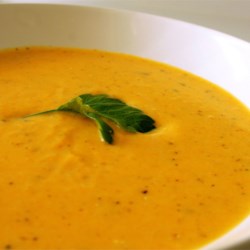 (click image to see recipe)
Next time I make it, I will puree the squash a little longer, for the soup was a bit grainy. However, the flavor was overwhelmingly good! I used thyme instead of marjoram. I've used that as a substitute before in other recipes.
Definitely a THUMBS UP from this kitchen!
EDIT: I just reheated the leftover butternut squash soup and OMG! It's even BETTER the second day!
To see other meal plans click the icon below: